Sennheiser PC120 Review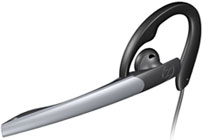 Having spent more cash on Sennheiser products than I care to remember over the years, it's a safe bet to say I was looking forward to the day these pc120s turned up on my doorstep. The Sennheiser PC 120 is an over the ear monaural headset which is ideal for voice communication software including Skype and your Xbox360.
Let's get the tech data out of the way, the following are the technical specifications and the manufacturers features and benefits from the product data sheet.
Technical data
Headphones
Frequency response
50 – 15,000 Hz
Impedance
32 ohms
Sound pressure
114 dB
Cable length
3 m / 9.8 ft
Connector plug
2 x 3.5mm for PC/Laptop and 2.5mm stero jack
Microphone
Frequency response
80 - 15,000 Hz
Pick-up pattern
Omni-directional
Sensitivity
-32 dB
Impedance
~2k ohms

Features
In-ear wearing style for those who prefer the most direct sound
Wearable left or right to suit personal tastes
Ideal for inexpensive internet telephony, game console and laptop use
Self-adjustable, omni-directional microphone for clear communication, more comfort and flexibility
In-line volume control and microphone mute switch
Single-sided cable keeps chin and neck free
Compatible with some mobile phones
You can clearly tell that Sennheiser have gone for as stylish approach as possible to the PC 120s and it works, no longer will you look like a skinny little geek with your official Xbox 360 headset. The headset is really quite small and has just one ear piece and a small adjustable microphone; they can either go on the left or right hand side of your head with a very simple swivel design. As you have no doubt already checked out the screenshots, you can see that you would not worry about wearing this sort of headset in the company of others because of the styling, and the fact that it only covers one of your ears so you can still easily hold a conversation.

Let's get down to one of the most important features in a headset; comfort. While comfort wise these don't compare to the likes of Sennheiser's 650 headphones, I still found myself able to wear these for hours at a time. The over-ear design means that these tend to stay in place for long periods of time - however I can't say I would recommend someone try this out by going running with them on. One of my biggest problems with some of the other makes of headsets for the 360 is that you really cannot use them underneath a pair of normal headphones during those late night gaming sessions where you don't want to wake the neighbours. The PC 120s fitted perfectly under my Sennheiser 650s, and did not impede the sound quality too much either.
Most people will buy a headset such as the PC-120 for the increased sound quality a company like Sennheiser will bring to the product. I can safely say both the microphone and earpiece offer a marked improvement over the official Microsoft headset. The earpiece in particular really enabled me to hear every nuance of my Scottish friend's accent, although I am not so sure if this is such a good thing. Sadly the microphone is not perfect, in what seems to be a common thing in the technological market at the moment; it is designed for style and as such is a tad far away from my mouth for my liking. If you use this headset on a pc then it does not matter so much as there are so many tweak-able options to increase the volume, but sadly the 360 is lacking most of these bar the main volume tab which has the effect of making you sound a little quiet and muffled at times.
If you do use this product on the 360 then you have to unplug the volume control section to get the right connector for your 360 pad. This is a real loss in my opinion because you can no longer mute the microphone meaning that your friends can hear all your embarrassing conversations and know that you are well and truly whipped by your better half, not to mention the lack of volume control for the earpiece. Another minor fault with such a small and stylish design is that I found it was really rather easy to lose the headset down the back of your chair when it was not in use. Apparently you can use this headset on some phones, although as loathe as I am to admit it, I don't get many phone calls any more, with most of my messages coming via the net. Thus I didn't get to see how much of a improvement that would have made to your conversations.
Summary
You can find these Sennheiser PC-120s on-line for around twenty pounds, it is therefore a direct competitor to the official Microsoft headset for the Xbox 360. Given the choice between the two products I would go for the PC-120s just because of the enhanced quality and styling. Sadly the 360 uses a low quality codec for its voice communications software, so you really aren't getting the best out of this headset, even so there is a marked improvement in sound and build quality. If you are thinking of buying this as a gaming headset for the PC then I must warn you that it would make a poor choice, this product is designed for dealing with voice communications and internet telephony not high quality game audio and as such has only one ear piece. Overall I think this is a good product that could be tweaked to make a great product; these tweaks would have to include a larger microphone that reaches your mouth and the ability to keep the volume control when using it with your Xbox 360.
Good stuff
Very Stylish
Higher quality than most of its competing products
Relatively comfy for long periods of time
Can be used on either side of your head
Not so good stuff
Loss of volume controls when using it on an Xbox 360
So small it can be misplaced
Microphone is a bit far away from the mouth
Not much use for PC gaming

More about Sennheiser
||
Comments!