MX vs. ATV On the Edge Review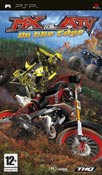 "MX vs. ATV Unleashed: On the edge" is THQ/Rainbow Studio's fast paced motorcycle and ATV (All Terrain Vehicle) racing game, now released on the PSP after arriving on most consoles in late 2005. It combines the racing of 2 wheeled MX motorbikes in their various classes and engine sizes, with 4 wheeled ATVs such as Dune Buggies, Monster trucks and, as the games marketing material tells us, "pimped out 4x4 golf karts". Snazzy!
The game is well presented from the outset; loading screens (which can be skipped!) take you to a well laid out interface. Some of the navigation is a bit ropey, or at least, I didn't find the wording particularly intuitive. Using the word "Back" instead of "Continue" was one particular bugbear which niggled rather than confused.
The single player game consists of a number of modes: competitive, freestyle (mostly for gaining points for tricks and stunts) and free-ride as a practice mode. In the competitive racing modes all the expected games and race types are there: supercross, nationals, short track, waypoint, hill climb, open class and supermoto, however some of these events are unavailable until certain targets are met in terms of success in the game. These targets consist of either success in races, or the accumulation of points gained by performing tricks and stunts.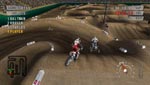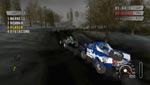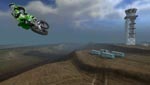 If I inserted over a minutes worth of pointless text in here that you were forced to read before getting to the rest of the review, you'd be within your rights to feel a bit peeved. And quite frankly, I was irritated by just how long it takes for a race to load in MX vs. ATV - well over a minute on every occasion! This is a hand-held console game developers! I'm not totally heartless to suggest that the game is a right-off simply because of this (and it certainly isn't) but it had a lot of work to do to bring me back from that point.
Luckily, once the game is ready to play, the camera races and zooms around the course you're about to play and shows off the graphics engine in an impressive way. And the impressiveness doesn't end there, playing the game is a hell of a lot of fun, more than I'd thought it would be, I have to admit. The vehicles are responsive and great to handle; preloading for jumps is simple and effective and you will even feel free to pull off tricks during the middle of a race because the game's engine is so well balanced in almost all respects. It's important to emphasise just how much fun the game is, right from the off. The "rubber band" mechanism for keeping races fairly tight means that you are able to compete against the AI, even from the first game you play. Those not particular interested in either MX or ATV racing would, I feel, be surprised at how much fun it is as a pure racing game.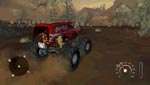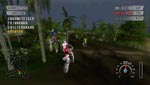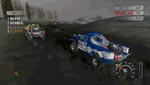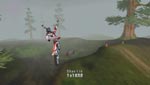 There are, naturally, some problems with the game engine. The rubber band mechanism can mean that it is difficult to get well clear of the racing pack. So, should you crash, you will undoubtedly restart the race in last position, regardless of how far ahead of the pack you might have been. The main punitive force in the game is not, however, how easy it is to crash. It is instead an anti-cheat mechanism that prevents you from leaving the course and rejoining it later in order to slip a corner, or avoid a treacherous part of the course. The punishment for doing this is that the game begins a five second countdown, within which you must return to the natural course. However, if you rejoin at the wrong point, too far down the course, or you are unable to get back on the track within those five seconds, the game automatically resets your vehicle in the place where you initially went off-track. A decent idea, but so badly tuned that it becomes the most frustrating part of the entire game.
Over a 5 lap race, I could find myself leading for perhaps 4.5 laps, only to go off-course for a second and be punished, restarting the race after a pause which lets the other racers jump ahead of me!
A part of the game I was surprised to find so effective was the soundtrack. Ordinarily I'm very much turned off by the alternative-rock music that ordinarily ships with a game like this - but I was surprised and really enjoyed the music. By including bands from hip-hop to bog-standard rock (for example, Black Eyed Peas to Papa Roach) the game mixes the genres well and creates a nice sounding backdrop to the game play. Indeed, I think the mix of music on this game competes very well with EA's "Trax" music system.
Summary
Overall I'd happily recommend MX vs. ATV Unleashed: On The Edge. It is fun and fast to play and it's possible that the frustrations I had can be ironed out by simply putting in more time (or cutting down the number of laps you choose!) and of course there are other game modes than pure races. The AI is well balanced in terms of competitiveness and the rubber-band mechanics that keep you and the computer controlled players in touch with each other throughout the race, will make you feel like you can compete right from the start. Once you do master the system, you really have to concentrate to avoid losing any lead you might have! The graphics and course designs are excellent and contribute massively to the feel of the game, as do the controls which are intuitive and responsive. My only real recommendation for play would be to always race over just 2 or 3 laps so that if you are punished for going off course, you're not too frustrated by coming last when you've led the entire way around the course. Oh yeah, and make sure you have something to do whilst you're waiting for the game to load!
Good stuff
Impressive graphics that actually contribute to the game play
Good soundtrack
Fun to play from the get-go
Not so good stuff
Punitive system can be very frustrating
Load times are just ridiculous